Why MAERSK?
Maersk is an integrated container logistics company, connecting and simplifying trade to help our customers grow and thrive. With a dedicated team of over 76,000 operating in 130 countries; we go all the way to enable global trade for a growing world. This is our employee value proposition to make Maersk one of the best places to work.
Every day, our employees create positive impact by solving customers' critical needs, facilitating global trade and contributing to Vietnam long term sustainable economic growth. We are proud that our integrated container logistics & supply chain services help to bring billions of products from Vietnam to the world and vice versa. Being the leader of logistic & transportation industry, Maersk always seeks for new ideas, pursues innovation and defines new trends in the market, which then raises the industry standards in Vietnam to a whole new world class level.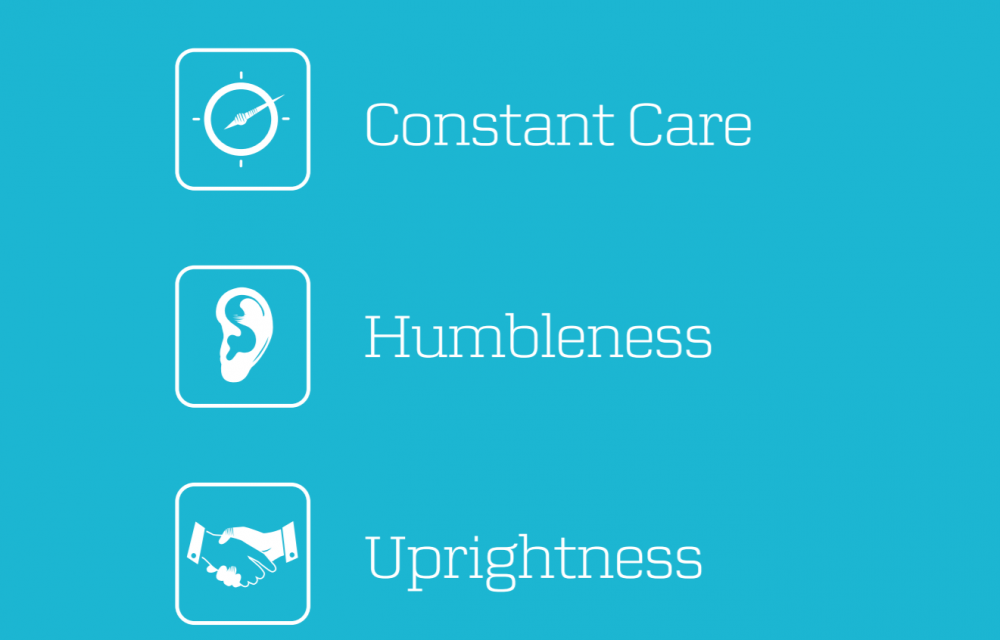 CREATE POSITIVE IMPACT

As a big conglomerate, we are strongly aware of our influences on the society. We create meaningful jobs and prosperous career paths for generations of Vietnamese employees, participate in a wide range of local and global charity movements to improve lives of millions of people and take actions to tackle environmental issues. Our campaigns, such as, Ocean Plastic Cleanup projects or Zero Carbon Emissions vision, change the awareness of logistic industry towards sustainable development, forcing other companies to follow and take initiatives to protect our future.
EMPOWER AND UPSKILL
Coaching culture
We empower our colleagues by creating a coaching culture, to test unchartered waters in pursuit of entrepreneurial growth. Through our annual coaching cycle, each employee understands the importance of our role in the company's strategy, our individual strengths and improvement areas, identify the support needed from managers and other stakeholders and make action plans to develop ourselves further every day. With a strong empowerment culture, each employee is given the trust to make decisions, the sense of ownership, the room for self-development, the drive for innovation and the encouragement to do best in whatever we do. Coaching & empowerment has always been the driver for Maersk's success in the past 100 years and will still be the key to our fruitful future.
Learning & Development
We invest in best-in-class capabilities to enable our vision. Through state-of-the-art training courses, designed by our advanced local & global training center, we ensure that our employees are equipped with the most up-to-date knowledge & skills required for a prominent career at Maersk.

Sneak peak of our E-learning platform to provide the best possible learning opportunities for our employees through interesting interactive courses.
Structured talent development programs such as "LEAD" and "Go With Maersk" allows our employees to experience the different aspects of our business under different functional departments.
Job rotation, short-term assignment, expatriate assignment, etc are some of the significant growth opportunities provided to our employees. We reward performance & promote for potential.
Our transparent and competitive remuneration and benefits policies ensures that high performers are differentiated, while at the same time recognize and encourage teamwork initiatives to boost our healthy collaborative culture.
Meaningful bonding activities
We create a "home away from home", a workplace that connects as a family. With more than 10 enormous employee events throughout the year, all full of energy and fun, there is strong emphasis on leisure and bonding activities, creating memories that last forever. We encourage social and interest groups to build team spirit and make workplace fun. Guitar club, yoga club, weekly football session, monthly trekking, "Up-racer" running competition and many such activities help to connect our interests to create an active, dynamic and happy community.
Maersk UPRACE 2019 had generated great interest, to not only improve personal healthiness, but also support toward good causes for Newborn Vietnam charity. 
Diversity & Inclusion
We passionately and consistently re-enforce a culture of diversity & inclusion, with meaningful trainings, workshops, talk-shows led by Maersk's inspiring leaders to help eliminating prejudice in our daily work and foster mutual understanding across different demographics. We are proud that respect for each other is reserved at the core of every employee at Maersk.
Our signature Diversity & Inclusion Week activities, where many of our leaders and employees gather to share personal experiences, and discuss actionable plan to continuously embarce Maersk's D&I culture.
Physical and Mental wellness
Like a family, each member of our "home away from home" are delicately taken care of through a wide range of initiatives, physically and mentally.
Annual health check and private insurance scheme with international clinics are provided to ensure that all our employees are in best fit.
Distinctive Employee Assistant Program (EAP), provided by professional psychologists, is a confidential counselling service that helps to solve employees' concerns, from personal matters (parenting stress, surviving the loss of a loved one etc) to work-related issues (managing workplace pressure, performance anxiety etc).
Every year, our Employee Engagement Survey & follow-up workshops help to drive the engagement conversation & action plan between employees, team leaders and top management on improving employees experience and making Maersk the best workplace.
Our journey of success begins with our employees, and we are prepared to go all the way to connect our employees together.
Ms. Duong Hoang Yen | Sales Department - Ha Noi, she shared that "Maersk is a great company to build your career in shipping & logistics industry. My experience with Maersk can be concluded in 3 words: knowledge, growth, and care. There are always new things to learn everyday. If you are talented and passionate, you will have opportunities to go very far and grow your brilliant career. Besides, colleagues in Maersk are very supportive and caring. Together, people always collaborate to achieve company's common goals."
                                                                            -------------------------------------------------------
Ms. Nguyen Thi Phuoc Thuyen | CS MAERSK - HCMC, she shared that: "People, it is one of 5 core values at Maersk. We are open to speak out what we think, we are open to make us outstanding, we are open to develop ourselves in the way we want. No border exists at Maersk. "The door is always open" and it is up to you. I never regret that I'm the member  of Maersk's house."
                                                                            -------------------------------------------------------
Ms. Trang Pham | Commercial Planning Department – HCMC, she shared that "Maersk provides a variety of international career opportunities for those who are keen to explore. Our well-designed personal development plan empowers the employee to think of where we want to be in the next 3-5 years. Basis that, we can have an open discussion with our manager & get good career advice and guidance from them. I am moving to an exciting new international role, and my advice to my future colleagues is, "Don't limit yourself with what you're doing now. Initially, it might seem like a difficult decision to step out of your comfort zone, however, you will never know if you don't try it."
                                                                            -------------------------------------------------------

Ms. Tram Ngo | Area Finance Controller - After having spent thirteen years in product and commercial functions at Maersk, I wanted to step out of my comfort zone and explore a new field. Maersk follows a very effective talent development process, which empowers employees to take charge of their career. This helped me to plan a career transition to finance, as a result, I am now the Area Financial Controller. It has been an exciting start to this new journey and my learning curve is on a sharp rise. I have experienced here that the important thing is not being afraid to take a chance.
Inside review about MAERSK
Senior Learning & Development Speicalist

-

1592473294

Pros: - Many opportunities to develop both personal and professional manners - Friendly and supportive colleagues - Transparent and open environment - International exposure through cross-countries projects/ activities

Finance Business Partner

-

1592473294

Pros: Flexible working hour and place, at least, for my position Friendly, open and caring colleagues regardless of level Clear mindset of priority, e.g. reduce number of unnecessary reports and meetings to focus on more important activities when needed Truly encourage staffs at all levels to speak up and raise ideas/questions Keen on listening to voice from employees